PHONE & EMAIL VERIFICATION PACKAGE
Verify any phone or email globally
Full proof your customer data by verifying them non intrusively.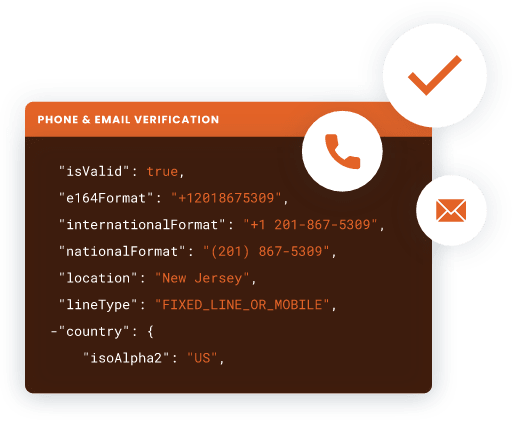 Phone & Email Verification Package Features

Fast Response Time
Lightning-fast (sub-millisecond) API response time

Syntax Check
Full standard compliance email syntax check

Domain Check
Full domain part check including mail servers configuration check

Malicious Email Check
Detect abusive email domains and accounts list

Disposable Check
Check if the email address is disposable or not

E164 Standard
Validate and convert phone numbers (any format) to the E164 standard format, international format or national format

Detect Phone Line
Detect the type of phone line, ie fixed-line, mobile, VoIP and so on.

Ethical Approach
The API doesn't use any unreliable and unsafe approach to verifying email addresses.
Phone number and Email verification package contains the following APIs
GET
/data/phone-number-validate
Similar to an email address, a phone number is an essential customer identifier. It is regularly use ...
GET
/data/phone-number-validate-by-ip
This API provides a similar validation check as the Phone Number Validation API by using the user's ...
Email is one of the most underrated customer engagement channels. Many email marketers, sales profes ...
Flexible pricing options that scale with your needs
All the plans provide full access to all the APIs listed above. The pricing is based only on the volume of API consumption. Regardless of which APIs you use, the monthly API limit applies to the sum of all the successful API calls made for that month. You can review your current API usage in your account's dashboard.
Phone & Email Verification Package Benefits

Increase Lead Quality
Prevent losing inbound leads with invalid data collection on your websites by implementing efficient email and phone validation checks.

Increase Lead Conversion
Increase contact/lead form conversion rate by providing intelligent local phone format detection and formatting.

Reduce Spam
Avoid spam form fills with bogus data, bot submission, and online fraud with email address validation and phone number verification based on the user's an IP address.

Reduce Development Time
Increase your development team's productivity by reducing the time to implement robust email and phone data formatting, conversion and storage on the database.

Automate Customer Data Verification
Save millions of dollars by reducing spending on customer data cleaning, formatting and processing.

Better E-commerce Experience
Reduce shopping cart abandonment and improve the check-out experience on your e-commerce sites. Ideal for online shops, travel booking and so on.