NETWORK ENGINEERING PACKAGE
Get access to rich internet network data
Designed and build for network and communication engineers, cyber security experts and IT support teams.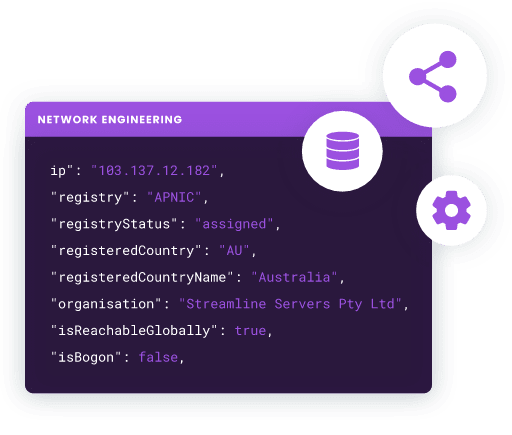 Network Engineering Package Features

Fast Response Time
Lightning-fast (sub-millisecond) API response time

ASN Detailed Info
A comprehensive ownership and connectivity report for any given AS number

Detailed Network Lookup
Get the most up-to-date, extended network information for an individual IP address or a CIDR range

Latest BGP Data
Access the latest BGP announcements published for the IPv4 address provided by utilising high-quality data consolidated from diverse locations around the world

Active TOR List
Gain access to the list of active TOR exit nodes geolocated to country-level along with active carrier information, IPv4 address space registration and BGP announcement status

Registry Data and More
Explore for the active BGP prefixes, RIR registry data and Autonomous Systems (AS) involved
Network Engineering package contains the following APIs
Flexible pricing options that scale with your needs
All the plans provide full access to all the APIs listed above. The pricing is based only on the volume of API consumption. Regardless of which APIs you use, the monthly API limit applies to the sum of all the successful API calls made for that month. You can review your current API usage in your account's dashboard.
Network Engineering Package Benefits

Troubleshoot Networks Faster
With the most up-to-date network data, you can troubleshoot network issues faster and efficiently.

Bird's Eye View on the Internet Network
Explore network connections and their associations to get a better picture of the internet network.
Detect Online Fraud
With up-to-date TOR Exit Node data, detect fraudulent or suspicious connections and avoid online scammers.