FREE API PACKAGE
Build a location-aware application at no cost.
Get started with the feature-rich BigDataCloud APIs for FREE.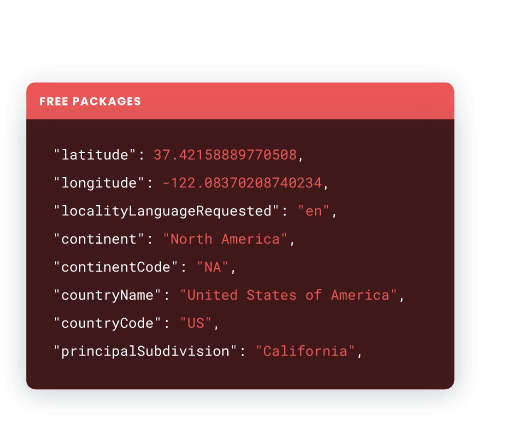 Free API Package Features

Fast Response Time
Lightning-fast (sub-millisecond) API response time

No API Key Required
No API key or account creation required to access the API

Commercial Usages
Can be used in both commercial and non-commercial usage

Unlimited Queries
No rate limit or restrictions on the API calls - Unlimited queries

Fastest Reverse Geocoding
Convert the user's current real-time geocoordinates to the readable address on the client-side with IP lookup fallback (note: client-side restriction)

Rich Locality Info
Access rich locality information from user's geocoordinates

Proxy Detection
Get the user's current IP address with a proxy, mobile, bot detection and user's roaming status

Device Detection
Access user's public device OS and browser information
FREE API Package package contains the following APIs
Free API Package Benefits

Improve User Experience
Deliver content personalisation and campaign optimisation without breaching GDPR laws or user privacy with BigDataCloud's client-side reverse geocoding API. The API is well suited for building location-aware mobile apps and websites.
Secure way to build location-aware apps
Avoid exposing your API key to the public through your website as these free APIs do not require any API keys or authentications.

Better Customer Targeting
With device and connection detection, build a personalised and engaging web experience with targeted marketing messages.